If you are looking to expand your sports card collection, contact Showtime Sports Cards & Collectibles. We carry a huge variety of single cards, new cards in packs and boxes, in addition to our very unique Edward Vela art sketch cards. We have all the cards that are perfect for set builders.
You can find all major brands of sports cards including:
Baseball

Football

Basketball

Hockey

Golf

Soccer

Wrestling

Non-sports
We are adding new cards every day. Stop by today!
If you are looking for the best autographed and patched cards, stop by Showtime Sports Cards & Collectibles today. You can find a huge selection of numbered autographed and unique cards including: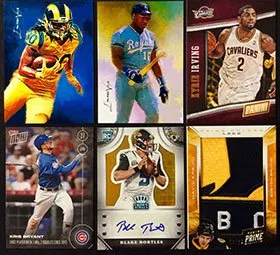 Discover a huge selection of sports cards, call us today!